12,450
33
Subscriber Goal

5000
Hello TubeBuddy Community,
The point of the YouTube Feedback section is to provide actual valuable feedback for your latest YouTube video, so you can improve as a creator. Whether you are wondering about the technical quality of the video, the video's SEO, or even a look at your channel we want to provide feedback you can use to help grow your channel.
IN ORDER TO GET FEEDBACK ON YOUR THREAD, YOU MUST FIRST GIVE FEEDBACK TO ANOTHER PERSON'S THREAD, AND LINK THAT FEEDBACK IN YOUR FEEDBACK THREAD IN THE "LINK TO OTHER REVIEW POST" Section.
When giving a review if there is someone who HAS NOT gotten feedback, you MUST give THEM feedback first. If everyone has gotten feedback, it's your choice!
ALL THREADS AND REPLIES WILL BE ADDED TO THE MODERATION QUEUE!
Please BE PATIENT!
To get your post approved:
ALL FORUM RULES APPLY.
You must clearly label if it's a Channel or Video review, using the wrong prefix will get your thread removed.
The thread title must give a brief description of the feedback you're looking for. Example: New Channel Banner and Trailer what can I change to be more inviting?
You MUST write a self-review for your video/channel. Self-review needs to be detailed, so the person reviewing can give you specific feedback.
When linking to your Channel or video it must be a simpler channel link, not a sub request link or video in playlist link. These posts will be removed.
You need to write at least three full sentences and it needs to be focused on the OP's self-review request. If you write single lines like "Great video!" "I would change X thing" or "I hope this helps", your post will not be approved.
If the @Moderators suspect that you're writing a fluff piece so you can get a review, your post will be deleted.
Content Warning tags must be placed in the thread title if the video being linked to has [foul language, sexual themes/humor, violence or nudity].
Here are some great examples of reviews given by other forum members.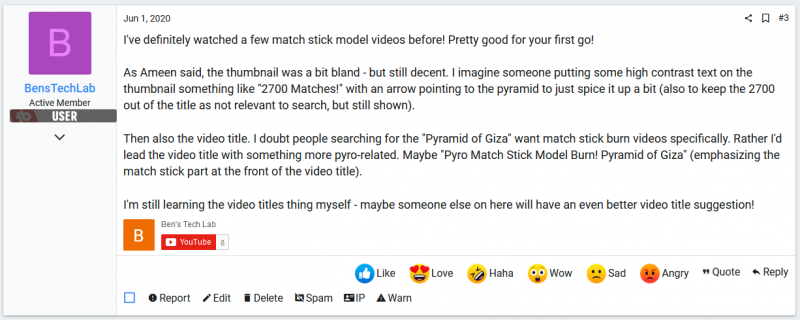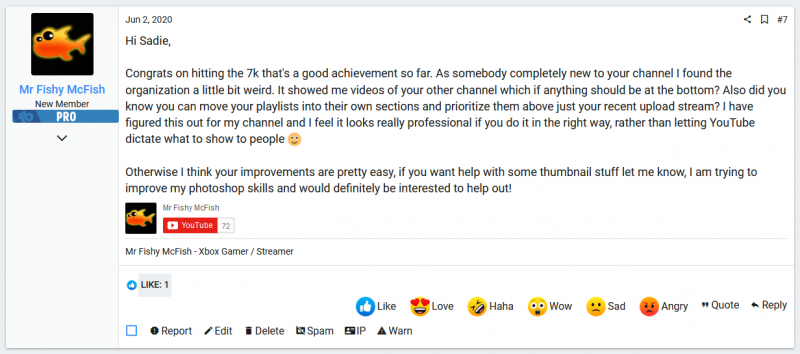 They take the Original Poster's Self Review request into account and give them ways they can improve, and things they can work on going forward.
Here are some examples we've made up that WOULDN'T get approved.
"I find your content to be interesting as I don't normally watch this myself. Your videos are totally rad and I would definitely carry on doing what you're doing broski! I hope this helps and keeps you motivated on that grind!"
"Maybe work on your thumbnails and it could bring more people to your channel."
"I would change the banner to be better. There are more mobile users out there, so fit the requirements and think of them. Hope this helped!"
We want this section to be a GREAT place for feedback, and that starts with a good self-review and good feedback for others. This section also counts towards our title ladder too. This section's goal is to help you get the feedback you want/ need. As well as giving you a place you know to go for improvements on your channel!
Thank you for following our guidelines!
We look forward to reading your reviews.
- The TubeBuddy Forum Team