Life ain't no Nintendo Game
Moderator
2,098
24
Subscriber Goal

1000
If you're looking to up your YouTube game, here's a tip everyone should be doing with every new video you create.
If you're on this forum it's likely that you're a TubeBuddy user. TubeBuddy is an amazing program giving you a huge array of tools that can help you grow your channel with many of them free and/or limited. One of the best tools from TubeBuddy is A/B Testing. It's under the Legend subscription but it's an amazing tool that allows you to test different thumbnails on your video automatically to give you an analysis on which thumbnails give better results for your videos by creating 2 or more thumbnails and setting it up so that the thumbnails are changed at certain intervals while analyzing the CTR, impressions and watchtime between each change. It also allows you to test the title, tags and description as part of the tests.
While it is a feature only accessible under the Legend subscription it doesn't mean you can't try doing the test manually yourself. Like with the automated version of TubeBuddy you simple create 2 or more thumbnails for your video, the same for the title, sets of tags and description, or just the ones you wanna test, except instead of using the TubeBuddy tool you'll instead manually change the information at a certain interval of your choice, say, every day at 4pm. Do this every day for as long as you want (2 weeks or 4 weeks) and then check your analytics at the end of the test to see which thumbnails and such worked best.
Here's how ya do it.
After you upload the video and set the up the title, description, the tags and upload your first thumbnail set a daily schedule for when you're gonna make the changes. Pick whatever is the best time everyday to make the changes. Go to the video the next day and start by changing the parts of the video you wanna test such as the title and description.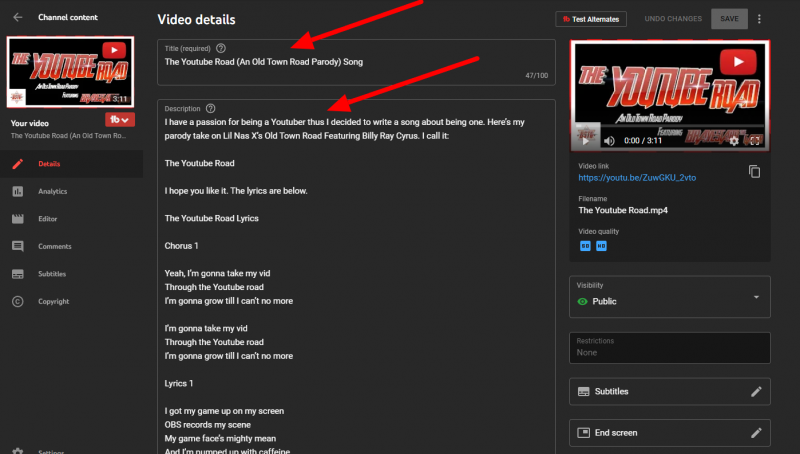 Then change the thumbnail.
Once the changes are done save it and repeat this every day at the same time for 2 to 4 weeks. After that check your analytics to see how the CRT, impressions and watchtime for each set changed. This can show you which titles and thumbnails worked best.
This is how you test what thumbnails styles work best for your videos. You don't have to do this with every video but you can try it one a few. Plus it doesn't hurt to have more than 1 thumbnail for every video. Of course with TubeBuddy Legend you get this as a tool which is automated and will help you with the analytics making it easier to test your thumbnail styles and titles.
And this is how you do manual A/B testing. It's definitely a test you should try with your videos to make sure your thumbnails and titles are at their best. Hope this helps.