Amazingly Decent and Not-At-All Terrible Fishing
Administrator
TubeBuddy Staff
2,603
25
Subscriber Goal

250000
I have an interesting metric that I came across years ago and have used it to bolster my self esteem whenever I post a video that is not performing the way that I would like. I didn't put much stock in it as being a 'real' thing worth talking about, but over the years I have come to realize that this is an actual prediction of my videos future... as well as a measurement of how much my subscribers may not be enjoying my content.
When you post a video YouTube first sends it to those who have signed up for notifications. This of course is pending the number of other notifications they have already received and whether they have changed their settings to limit the number of notifications that they get (which is why so many creators like to cry about how YouTube doesn't send out their notifications... but that's a conversation for a different day). After this they begin serving your content out to various circles of viewers who have watch habits that favor the type of content this video appears to be. Let's take a look at the viewer retention graph for a recent video I that I published:
A modest 4:57 watch time which reflects an Average View Duration of 37.5%. For the record the average retention rate for a video of this length is ~40% and the top-10% of videos this long on YouTube have a retention rate of about 57%. So for this video I am not performing as well as I would like. But here's the thing... let's take a look at the
Impressions And How They Led To Watch Time
funnel under the
Reach
tab of this same video: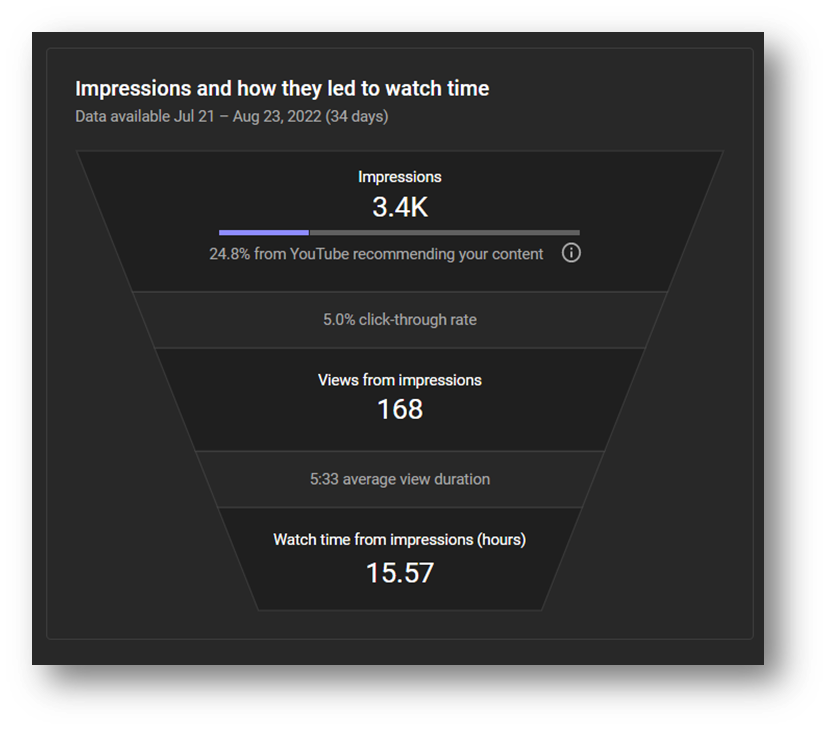 You'll notice that I am actually reflecting an average view duration of 5:33 (which is a retention rate of 41.5%). Why is this different and what does that difference mean? For starters there is a delay in data between these two. You'll notice that the prior graph takes about 48 hours to populate while the latter will populate far sooner. Take that as you will but also recognize that the data between these two takes far longer than a couple of days to even out. That's because the first retention graph includes your viewers from traffic sources that this graph does not. External traffic sources like posting your video on social media or internet forums do not reflect on the Funnel; this graph represents only the retention for viewers that
YouTube shared this video to.
So... kudos to YouTube; they actually put my video in front of people who spent more time enjoying it than the people I put it in front of. You know; the people who I shared it to on social media, Discord and internet forums. My Subscribers, my friends and colleagues... my 'followers.'
I am going to assume that you have stopped reading and are currently going through your library to see how bad your 'followers' (I
really
hate that term) are screwing up your retention, right? Well don't start screaming into the void yet. There is some good news here. YouTube recognizes that there is going to be a different retention rate for different traffic sources. They know that viewers who are watching your videos on television are watching your video 33% longer than those who are watching it on mobile. They know that competing social media platforms are going to squash your non-native video links and that the viewers there are likely to watch far less of your video than they would if they were watching it through YouTube itself... and they also know that you just provided an open source for viewers to leave another platform and come to YouTube. So guess what happens at this point?
Ok... this is not always the case but I am willing to bet that since this video has an AVD which surpasses the average 13 minute YouTube video I can expect the following things to happen:
A)
It Will Rank In Search
. This is further supported by my research prior to publishing. The videos which currently rank are not very well optimized, their thumbnails are not very good and the majority of them are around the 6 minute mark. Having watched a few I can easily say that they are not the same quality as my video. These videos are going to have a difficult time competing with the performance that I have come to expect from my content.
B)
It Will Improve Over Time.
So yes, it was my subscribers who let me down. You know what they did though right? They jumped on that video
immediately
. They didn't care that they were driving home from work or cooking dinner with the kids screaming about the cat jumping out the window. They stopped what they were doing to hit play as soon as they got the notification. Even if it wasn't a good time and they weren't able to watch as long as they may have at a more convenient time they felt the need to be supportive. I think that's more important than whatever retention metric we are looking at.
C)
It Will Get +10,000 Views.
Looking back at my library and seeing which videos have hit the 10k mark I have identified some common traits. The majority of these videos have a retention rate that is +40% and a CTR that is +5%. I will need to keep an eye on that CTR; if this video fails it will be because of the thumbnail. But that retention rate is good enough for it to hold it's own against the other videos that rank for the same search terms and that is a good weathervane for other traffic sources as well.
The retention rate is going to improve over time. Right now my subscribers are still slipping in and watching, and they are also swiping through and watching their other favorite creators. But YouTube is going to keep showing it out to more viewers who are going to enjoy it longer than my subscribers. Over the course of a couple of months the AVD will climb and as it does YouTube will share it out to bigger circles and I am betting that at the beginning of next summer this video is going to pop. It wouldn't be the first time:

These are three examples (out of dozens) of similar videos with similar AVD's and CTR's. Not one of them hit before the 120 day mark. But every single one of them was
underperforming
when I first published them. Every single one had a lower AVD than represented in the Impression Funnel and eventually the number from that graph became the norm and in several cases the AVD surpassed even that number. As with several of YouTube's quirky analytics when I see a difference between these two AVD's I get a little excited about that. The AVD for my subscribers just doesn't really change that often. They are always going to be watching my content while making dinner and listening to the kids scream about the cat jumping out the window. But when a video goes out and YouTube is able to put it in front of a new demographic that is
really
setting the pace for retention? You
never
know just how quickly things can turn and you never know just how high that mountain goes.