Amazingly Decent and Not-At-All Terrible Fishing
Administrator
TubeBuddy Staff
2,603
25
Subscriber Goal

250000
I was perusing the depths of Reddit's greatest YouTube communities and came across a request for insight into the metrics behind a viral video. The user wanted to know what CTR and AVD to aim for in an attempt to focus on going viral. The community lambasted him, saying that
virality causes analytics
rather than good analytics causing virality. Sadly there is actually some truth to this; if you were to look at the analytics for some of the biggest, most viral hit videos you
will
see that they feature a CTR of about 1.5% and that their average view duration can often hover around the 25% mark. Where this community is wrong however is the causality of this. They see a video with poor metrics and assume virality was the result of dumb luck, YouTube favoritism, voodoo or some other nonsense.
What they do not see is that these videos initially start off with exceptional analytics. Here is an example of a minor-viral video's recent analytics: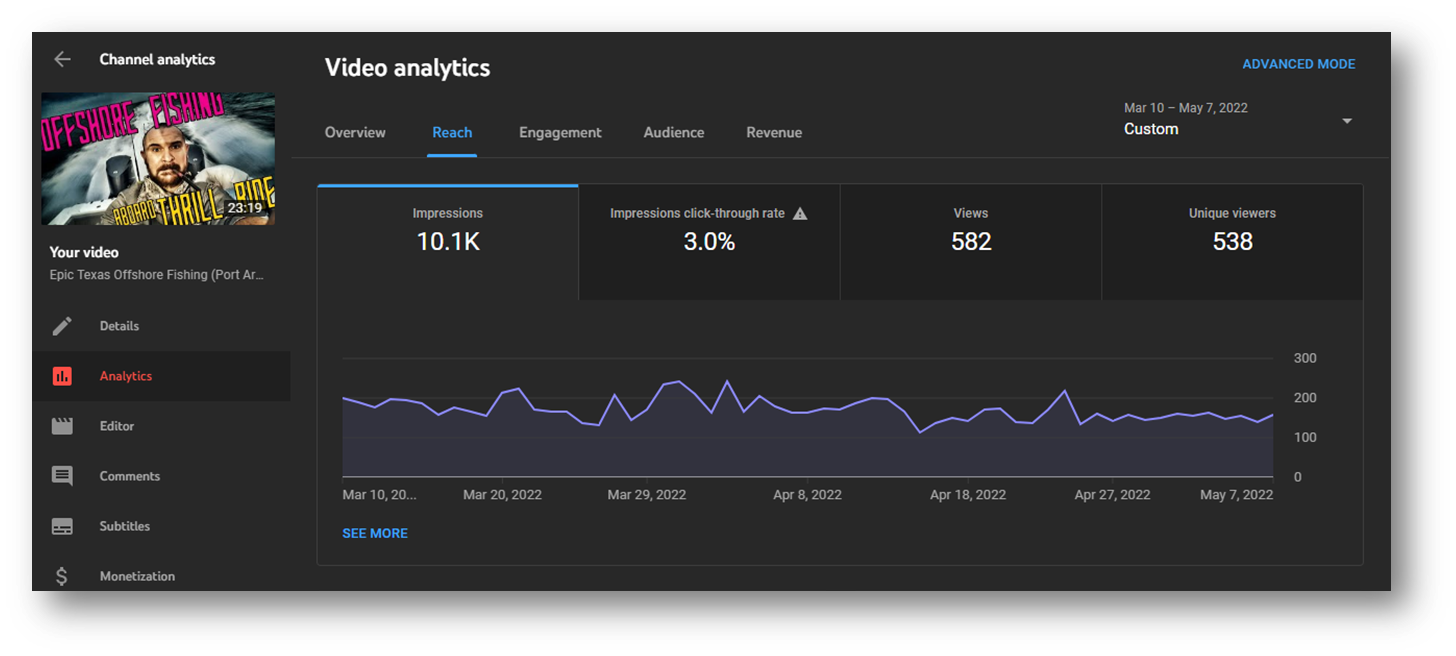 A 3% CTR on 10k impressions... nothing outstanding. At first glance you could very easily think that this is just a regular video and these days it is nothing more than that; just a video that pulls between ten and twenty views per day. Nothing outstanding. But this is what the analytics looked like in this video's infancy: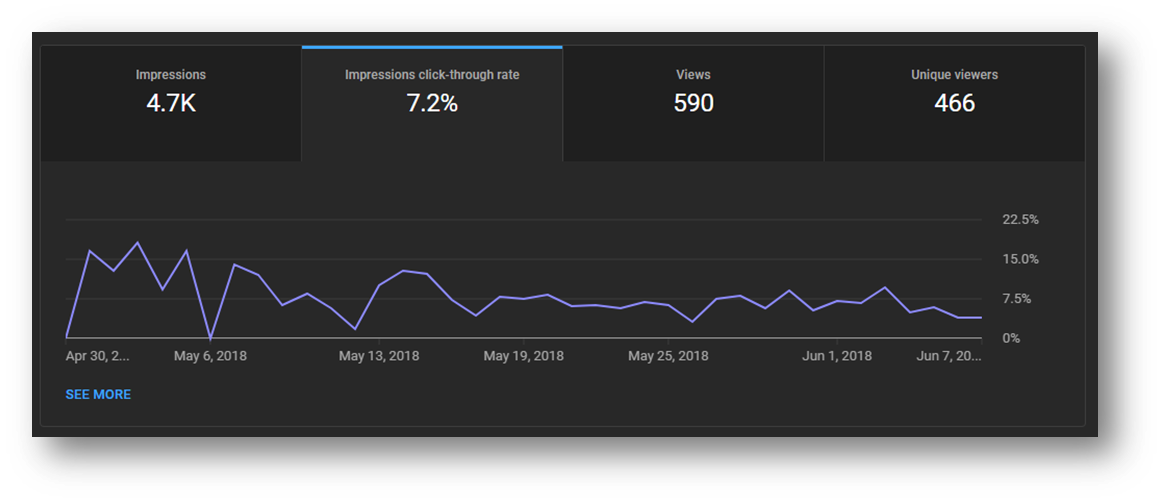 A fairly decent CTR with a healthy amount of impressions, especially early on. But the real magic that is happening here is going on behind the scenes. This in and of itself is nothing major. What is important here are two factors; there were less than 50 subscribers on this channel when this video was published, so all of these views came from non-subscribers and they responded well (more on that in a moment). The second; see how the CTR tends to drop in the days following the its publish? Here's why it dropped: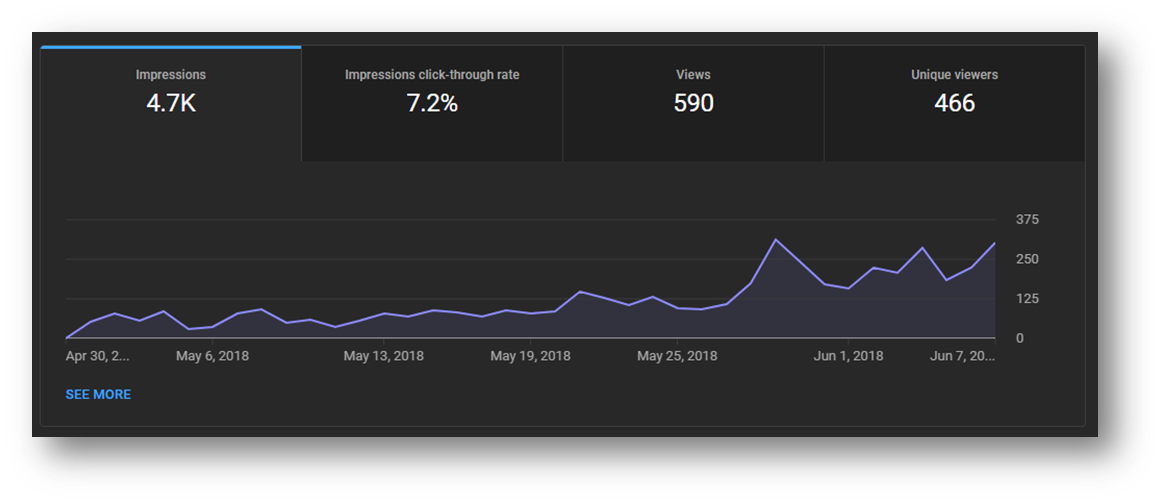 This video had a really good CTR and was performing well, so YouTube began showing it out to more viewers. See the growth in impressions? That came from several 'cycles of discovery.' YouTube showed my thumbnail to an audience who gave me a fairly high CTR response, so YouTube showed me to another demographic set. The CTR remained high, so they showed me out to another, larger demographic. The CTR wasn't as high... but it did not drop. In fact as you can see in the prior picture the CTR held steady despite a significant increase in impressions.
As you can see it took time but I earned confidence in my thumbnail. YouTube was able to trust that I would perform well and gave me ever-increasing amounts of impressions. In the end the video settled into a consistent, evergreen foundation of 3.5% CTR... but it has been sitting at that level and providing me the typical 15-30 views per day since I published it nearly five years ago. But it's virality was not the result of CTR. This thumbnail/title combination worked very well and helped to boost this video. It is an
essential
part of the discovery process and this video delivered. But the thing that really set it apart from the rest of my videos was the watch time.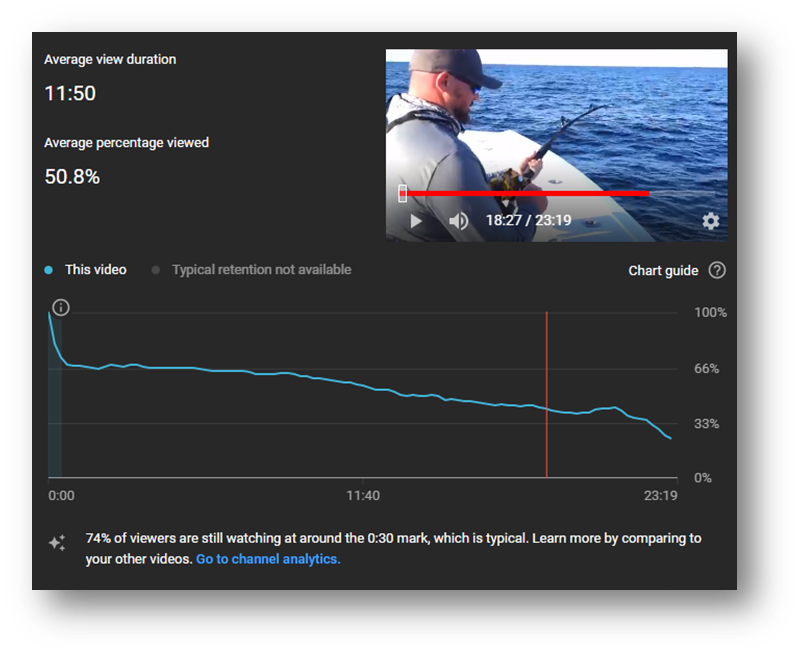 This is a 23 minute video that over it's five-year lifetime manages to maintain a heady 50% retention rate (this was actually closer to 60% when I first published it). That alone puts this video in the top 10% of all 23 minute videos on YouTube. Combine this with a minimal drop in viewers over the course of the first 30 seconds (a far more important metric than is given credit for), the fact that I have a relatively low amount of viewer drop-off in the waning moments of the video (another important metric) I do not have a lot of ridges and valleys in the retention over the course of the video (meaning people sat and watched through) and sprinkle an above-average CTR and you have the recipe for success.
But not all videos are created equal. This is a 23 minute video, and the numbers are going to be staggeringly different for a 10 minute video or a Shorts video. Here are some numbers to consider:
The top 10% of 30 minute videos on YT have a +50% AVD
Top 20 Minute Videos on YT have +60% AVD
Top 10 Minute Videos +70%
Top 5 Minute Videos +80%
Top 3 Minute Videos +90%
Top Shorts videos (with 16 seconds being the 'sweet spot') over 360%
The average CTR on YT is between 2% - 10%
There is no real way to affect virality; there is a lot of luck that goes into play. However, if you are going to throw darts you might as well aim when you are doing it. And if you are aiming for virality you'll want to try and beat these numbers. For CTR I advise gunning for +20% AFTER your subscribers have seen it. You can get 90% CTR from subs (because they like you) and then 1% from non-subs and the video will fail. Aim for the absolute-best retention you can physically get. And if you need a number to aim for then look at those provided AVD's and try to beat them.