Amazingly Decent and Not-At-All Terrible Fishing
Administrator
TubeBuddy Staff
2,603
25
Subscriber Goal

250000
Saw an interesting post this morning courtesy of
@Jeff Goober
and I would like to elaborate on this particular issue. There are things that you can do to increase your sub growth, but before you start stressing about your analytics you need to be realistic about the numbers you are seeing. On average you should expect to gain between 3-5 subscribers for every 1,000 views. That is a common average for YouTube in General.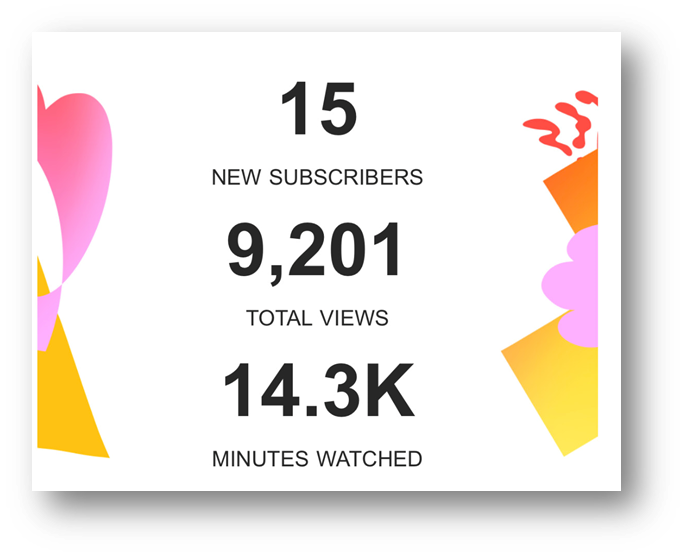 Jeff's numbers are actually closer to 6 per 1,000 views... already far better than the platform averages. But there are some things that can be done to improve this further. Here's how:
Get An Accountability Partner
When you look at the things that separate the 1k channels from the 10k and 100k channels this is one of those things. They've spent enough time on platform to know their audience, but they need insight and assistance brainstorming and getting honest, quality feedback on their videos, thumbnails and decision-making. You need to have thick skin; the best accountability partners aren't going to tell you how awesome you are and how amazing your videos are. They aren't 'Yes Men' and they aren't going to let you get away with your nonsense. You are cutting corners, you are not doing the work that you are capable of doing and you need to improve. Having someone who will tell you so is a valuable asset.
Identify Your Value

Right now you are asking people to subscribe for the sake of your vanity numbers. That is why people are not subscribing to your channel; it's all about you and not them. Cut the c*** out of your video; if you are saying 'please like and subscribe and hit that notification bell and leave a comment and blah blah blah...' then you need to stop that immediately. It's not working. Everyone is tired of hearing that noise. Sit down with your accountability partner and identify your value. What is your purpose? Why does your channel exist and what value do you serve to a viewer? Be real with yourself; if you are a FPPOV gamer and your channel is based around that then you need to say 'subscribe for more FPPPOV gaming.' Does that convince people to stick around?
Probably not. There is little value there. That sucks and it's a hard pill to swallow, but you have identified a weakness in your channel and now you need to figure out what you can do to create something that is
more
valuable than just being another FPPOV gaming channel. Figure out a
solid
reason why you provide value, and you won't need to ask people to subscribe. They'll do it inherently.
Brainstorm Your CTA
Once you have figured out the value-proposition that is the reason people should subscribe it is time to focus on the actual call-to-action (CTA). This is the way that you present your value-proposition. It's how you convince your viewer to become a subscriber. As I mentioned before you want to get away from following the exact same script that plagues so many rookie channels. Get together with your accountability partner and figure out a creative way to slip your CTA into the video. Maybe have a chalkboard in the background that has a new, clever pun which asks the viewer to subscribe every video... kind of like how Bob's Burgers always has that 'Burger of the Day' pun. For more serious content maybe give a more serious reason for a viewer to subscribe, something akin to the following:
"Stay up to date with this and all new, upcoming news on this topic by subscribing today so you never miss out on..."
An Audience of One

Finally, remember who it is that you are talking to when you film your video. I cringe every time I hear a creator say 'you guys' or 'hey everyone.' I'm not 'guys,' and I am not sitting on a couch next to 300 other viewers watching your video together. I am an individual and I am watching your video alone and in solitude. Talk to me. As a creator you need to film your video as though you are talking to a single person, and your CTA should be an extension of this. You are talking to a single person; you need to express your appreciation for having that single person watching your video and speak to them directly when you are asking them to be a member of your community.