Amazingly Decent and Not-At-All Terrible Fishing
Administrator
Moderator
TubeBuddy Staff
2,411
24
Subscriber Goal

250000
Every year I take a look at my channel performance the previous year and I set a few goal for myself. When 2022 rolled around I decided that I should aim for the 5,000 subscriber mark for my channel by the end of the year. I started at about 4,400 in January. Now, it is important to break down goals like this into consumable pieces so that you can set tasks and realistic initiatives for yourself. I needed 600 subscribers in 365 days, which means I basically need to earn 2 subscribers per day for the entire year in order to hit my goal. This is a great task in my opinion; I am currently averaging 1 subscriber per day organically. This goal requires me to make a push for subscribers and causes me to step out of my comfort zone. Outside of my organic growth I need to convince one person per day to subscribe to my channel.
Just one subscriber per day.
Recently I have taken to being more interactive when filming. My videos are filmed outdoors, and while fishing is something that is most often accomplished when you are furthest from people it does still require me to spend time at tackle shops, buying gas and morning tacos/coffee etc. One of my goals is to provide as much of this fishing experience as possible to the viewer; I am here so that someone can enjoy a fishing trip even when they are not capable of doing so on their own, and part of the experience is that time spent at the bait stand or buying breakfast tacos. I am really shy when filming around people. I'm really antisocial and I actually suffer from some pretty severe anxiety in large crowds. But now that I have this 1-per-day assignment I am forced to get out there and talk to people and engage with living, breathing human beings.
This past weekend my wife and I drove up to Austin, Texas. It is a beautiful area and there is a spot near where we were staying that I have been wanting to film a video about for five years. This weekend was finally my chance. I won't get into the particulars of what happened... Austin is notoriously weird and the experience was... well you'll just have to check out the video to find out. But I had a unique, off-camera experience that I want to discuss here.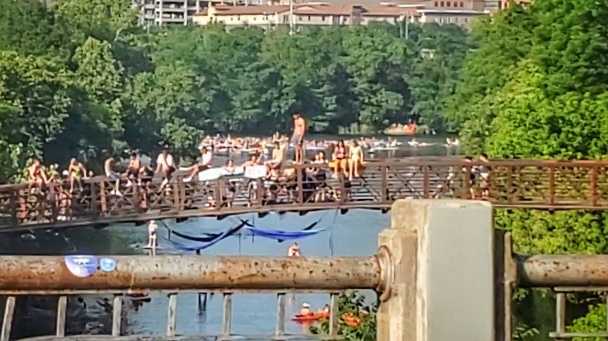 I had been filming all day and wrapped the main story of the video. I had a couple hours to kill and I
really
wanted this to be something special, so I set out to get the best b-roll I could film. I got my dramatic zoom-in shots, my time-lapse footage and some of the best slow-motion, underwater footage I have ever filmed. I wanted to really cap things off with some amazing drone footage. Sadly, the batteries for the controller had died. I was really set on making this the best video possible, so I packed up and drove to the nearest gas station to grab a cold drink and some AA's.
As I am in the store these two young girls come walking in and ask the cashier if he offers cash back, which he does not. After a moment they approach me and ask if they can Venmo me $20 in exchange for cash so that they can purchase some drinks and snacks. I agree, but my wallet was in the truck so I stepped outside to grab the cash for them. I was just going to give them the cash... I don't even have a Venmo account. But that is when it struck me; I need to take advantage of this situation. This is how I am going to get my extra subscriber for the day. I grabbed a $20 and walked back inside... and I wish I could have had a camera on me when I did.
I was wishing that they would have followed me out to the truck; that way I could have been quiet and the conversation could have been between the three of us and I could give them the money and that would be that. In hindsight that would have looked really...
really bad
and I commend them for staying inside. It isn't safe to talk to strangers and I understand and appreciate their foresight to stay in a more public place. But man... that meant I had to talk to them... in front of other people... Ugh. So embarrassing. I stepped up and handed them the twenty dollars. The first girl pulled out her phone to do the Venmo thing and I stopped her.
"Don't worry about that, it's on me.' I said, stumbling over my words. I wasn't sure how to broach the subject, and I am certain that I looked totally sketchy as I fumbled my way through the conversation. 'But there is a catch...'
Yup. I said that. To two girls that I just handed money to in front of the entire store. Heads turned. The stares burned far worse than any sun burn. I followed up as quickly as a could, now more nervous than ever.
'...You see, I do a YouTube channel and if you have any friends who like fishing...' I spit it out as fast as I could. I didn't even do it for the sake of subscribers, I just wanted to get past my initial comment to get all the eyes off me. At first I had not been looking them in the eye. I was too embarrassed, too shy and too awkward to converse like a regular human being. But they both whipped out their phones erratically and with eyes like saucers they asked about my channel before I could even finish explaining.
'Oh my God... you're like a
big
YouTuber?' The first girl asked.
'What kind of videos do you make?' Asked the second girl.
'What's your channel name?' The first girl followed... the questions and comments were coming faster than I could respond. The eyes in the room were growing more and more intense. Was I some pervy guy trying to prey on these young girls with the promise of Insta-fame?
'The channel is called Stanley Orchard and I...' The first girl tapped her phone about four times and let out a small squeal before I could finish my sentence. She showed the second girl, whose jaw dropped and eyes widened.
'Oh my God!' The first girl said. 'You are like a professional!'
'You are famous!' The second girl followed up. This caught me of guard, and I immediately had about seventeen things to say about 'fame.' Of course the conversation was going
way
too fast for that. But this is when I was finally able to right the ship and take over the conversation again.
'Oh no... no I am not famous.' I smiled and jumped back into the conversation. 'I am good at what I do and I am proud of my work, but I am not famous. I just enjoy fishing, and if you have any friends who enjoy fishing I ask that you simply force them to subscribe to my channel!'
I grinned as I delivered the punch line and they got the joke. The rest of the store let out an almost obvious sigh of relief. I wasn't a total creep. The girls laughed and agreed to tell their friends, whom they said did enjoy fishing. I thanked them, they thanked me and we split ways. The moment lasted all of about 30 seconds and at the end of it I was absolutely drained.
And yes... like every single person reading this I immediately jumped in the truck and pulled up my YouTube Studio. +2 subscribers, mission accomplished.