Amazingly Decent and Not-At-All Terrible Fishing
Administrator
TubeBuddy Staff
2,603
25
Subscriber Goal

250000
We had a user pop up in the Discord earlier that caught my attention. They posted the following picture along with the caption 'This is sad.'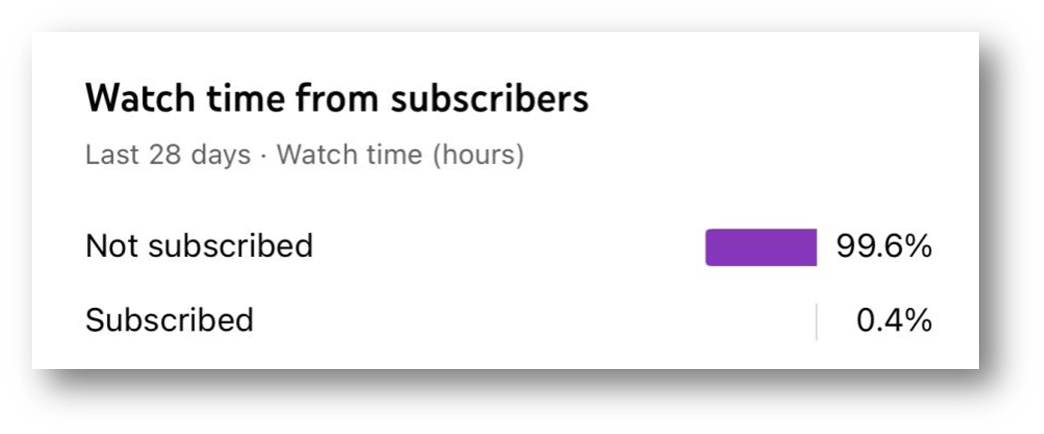 This is not the first time I have seen someone distraught over the fact that their audience is not viewing their content. What is so funny about this is how 100% wrong this mindset is. You see if it was the other way around... if 99.6% of their views came from their audience then how many views would that equate to? If they had 10,000 subscribers that equals 9,960 views.
Not
a good number. Look at it this way; if you have 99.6% of your views from viewers who are Not Subscribed, and if you have that same 10,000 subscribers, 100 videos and each subscriber has seen
half
of your videos that puts you at 12,500,000 views. You
want
the vast majority of your views to come from Non-Subscribers. Actually 'Not-Subscribed' is a bad word choice for this group... they should be called 'Not Yet Subscribed.' This group represents all the views you got from YouTube sharing your videos out to a new audience and is the people that you are trying to convince to subscribe to your channel.
Take a moment to think about that. 99.6% of the views on this channel come from people who have
not yet subscribed.
This begs the question... who is this creators
real
audience? The Subscribers... or the viewers who have not yet subscribed?
There are five types of audiences that I target my content towards. Each has their own demographics, their own viewing habits and tendencies and I cater specific types of videos to each with a weighted amount of important that goes into each video. I feel this is important information because it not only gives you insight into some different directions you can focus your content but also gives you a peripheral idea of how YouTube works in general. Mind you, this list is catered specifically to me; I am a family fishing vlog and though the concept of these audiences will remain very similar regardless of what type of channel you do there is going to be a different amount of value for each audience depending on your channel, niche etc.
My Subscribers
This is my core foundation of viewers. They were drawn in because I create a video based on a topic they enjoyed and they found my
personality
worth subscribing to. They enjoyed what I did enough to come back for more. This is actually an interim phase for an audience; just because someone subscribes to my channel does not mean they are going to stick around forever. They will in fact eventually do one of two things; they will grow tired of the content that I make and move on (leaving behind a dead subscription or unsubscribing) or they will become ever more engrossed in the content that I create. The direction that these viewers turn can be largely influenced based on how you treat them and the
value that you provide for them.
Though they are the minority from a numbers standpoint it is my intention to convert this crowd into
superfans (
more on that later
).
Subs understand sacred-words (inside jokes), they pick up on plotlines that span multiple videos, and they enjoy my content for more than its surface value. Because of this they typically enjoy a different style of thumbnail and title; my subscribers vastly prefer one with my face and a good picture of a fish rather than a highly-skilled, Search-targeted Thumbnail and because of this my product review, how-to videos and Search-targeted content has a tendency to suffer in the initial weeks after publish, but my fishing vlogs rollout very strong. About 10% of my videos are dedicated directly to this audience with no regard for SEO, with special consideration given to about 40% of our videos to ensure that this audience does not
dislike
the content that is going out.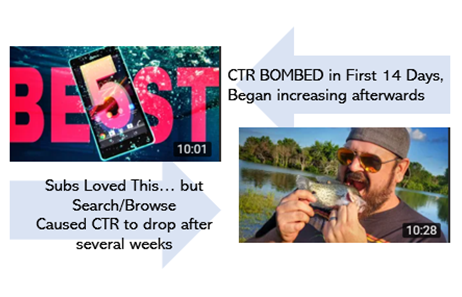 My 'Not-Yet Subscribers'
These are casual viewers who find my in Search, Browse or via one of the many ways that YouTube goes about sharing my content. I have a preference and appreciation for my Subscribers... but because of the shear volume of non-subscribers who watch my content they are in fact my main audience.
About half of my videos are targeted specifically to this audience. This is the initial step for discovery; creating videos that an external audience and viewer is going to enjoy enough to want to subscribe. So about half of my videos cater directly to this segment. This is the purpose of SEO; to get me in front of this very specific group of people who are looking for the thing that I do. When someone first lays eyes on me it is because of the content that they find via Search, Suggested, Browse etc.
Targeted Sales
I take a very business-oriented approach to my channel, and while I pride myself on scrapping the majority of mid-roll ads in my videos I operate from the premise that this endeavor must make money to survive. One of the ways you can go about doing that is by utilizing YouTube's Search and Discovery Systems to Market Goods and Services. If I do a product review I want to rank in search for specific terms, namely the product, brand and the
the things people are typing when they are looking for something like this product.
So if someone has me do a review on a fish hook, I want to rank for the brand that made the fish hook and the name of that particular fish hook because this gives me authority in the subject. But I also want to rank for terms like 'best fish hook' and 'what fish hook works best for _____.' I need to get ranks which will get the brand exposure... this is one way I can return value for brands and get sponsorships. Another approach is to take a product and make a dedicated video to an underserved search query that the product fits into in order to facilitate Affiliate Sales.
I do not want to alienate my Subscribers, and videos like this are going to have to suffer through the meat-grinder that is my notification squad and subsequent Home feed. Typically thumbnails for these videos are classy, highly-edited works of graphical mastery that my subscribers are simply not into. Poor performance among this segment typically causes these videos to perform poorly for several months until YouTube begins to serve them to different demographics, and then they tend to shine and in several circumstances they perform very well and for many years. Though valuable for the money they bring in only about 5% of my videos focus on this particular audience.
Other Ways To Make Money


I was blessed to have come into my YouTube journey with the experience of many years dealing with advertisers, artists, musicians, customer-service representatives and distributors and as such was able to put that experience to use in order to start making money well before we ever got...
community.tubebuddy.com


Shorts Traffic

The thing that so many creators find so confusing about Shorts videos and how to make them successful is the fact that they don't realize this is an entirely different flow of traffic from an entirely different audience. So much so that YouTube has even created their own traffic source and viewing platform (the Shorts Shelf). This audience comes to the platform in need of something to take their mind off whatever is going on... they don't want to pay attention or focus for long periods of time and they typically do not subscribe to creators (unless someone
really
wins them over).
I make Shorts videos sparingly. Maybe 1 per month. My personal focus is in long-form, story-telling vlogs with story arcs that can cover multiple videos... basically the exact opposite of what the Shorts viewer is looking for. It is possible that someone who likes this form of content is simply looking for a quick laugh and will subscribe and later enjoy my content, but unlikely.
But...
I make it a habit to create 15-30 second videos re-purposed from my vlog content that I use on social media. Since these short videos already exist it doesn't hurt to publish them as Shorts videos intended as a mini-trailer for an upcoming longform video. At least that way I am being honest with these Shorts viewers about what they get if they did subscribe and I hopefully don't pick up too many empty subscriptions along the way.
SuperFans

Having 1,000 Subscribers will get you monetized. 1,000 Superfans will get you sponsored (and that pays WAY more). This select group loves what you do, they are active and engaging in everything you put out. They buy shirts, they spread the word and want to be a part of your journey. A Superfan can make an impact on you, your channel and your wallet without spending a dime. While I will make monthly videos for my Patreon crew (and when we hit 10 I will do a private livestream dedicated to them every month) Superfans are the ones whom I will trust to join me for a day of fishing out at the beach. I'll send them postcards, they get their messages read in regular livestreams and if I have something free to give away they are the first to get it.
You make superfans by engaging with your audience, by providing them with value and by respecting and appreciating them. Honor those who show up for your livestreams when there are only 3 people watching. Give them the privilege of playing a role in the development of your channel. Be the friend that they are looking to hang out with.
Having a clear point of view as to the audience you are targeting as well as adding content specifically for the audiences that you may not be targeting (or targeting correctly) can go a long ways towards understanding and developing the various segments. Knowing how to serve each is important because it helps you to foster a stronger base audience and capitalize on the potential each offers. Learn your community, serve them and honor those who boost you along the way. They have a much bigger impact than simply adding to the vanity metric that is your subscriber count.