Amazingly Decent and Not-At-All Terrible Fishing
Administrator
TubeBuddy Staff
2,603
25
Subscriber Goal

250000
YouTube is the second largest Search Engine in the world (and owned by the first). While they are a video-hosting platform it is the majestic nature of their Search and Discovery systems (SDS) that truly makes YouTube amazing. What everyone refers to as 'The Algorithm' is actually a complex series of algorithms that essentially review your video and match it to the viewing habits of people looking for exactly what your video is about (as well as the advertisers looking to get in front of those people).
Some of this is largely out of our control. YT uses some really intricate AI to determine what is in your thumbnail, what is occurring in your video etc. But they still require a human element; YouTube wants information from you in order to help determine the correct audience for your video. We can provide insight in the form of four sections of your video's metadata. Here we are going to break down each section, how they work and their value in the overall process of indexing your video.
Titles
This is the most important aspect of your videos metadata. YouTube realizes that the majority of viewers are going to see your thumbnail and read your title. Their split-second decision to watch or scroll away is determined by these two factors. As such they place the most emphasis on the value of the beginning of that title. The longer a title is the less value there is in the words/phrases included towards the end because YT realizes that the longer a title is the less likely someone is to actually read it entirely. While YT allows you 100 characters for a title the end of that will be cut off… the amount that is cut off is determined by the device you are viewing it on. Ideally you want your title in the 60-70 character range.
When implementing keyword phrases it is a good practice to have a set of 4-5 that you are targeting. Choose the one that is the 'primary' keyword phrase and that should be the beginning of your title. You can mix in multiple keyword phrases too, like this…
If your keyword phrases are:
Delicious chocolate cake
Chocolate cake mix
Cake mix recipe
Then the beginning of your title can be 'Delicious Chocolate Cake Mix Recipe' and that will include all three terms as keywords in your title. That's 35 characters, so use the remaining +/- 30 characters to include something that is going to hook the viewer. This is where you craft something compelling.
Delicious Chocolate Cake Mix Recipe
for Beginners


Delicious Chocolate Cake Mix Recipe
That You Won't Believe!!!


Delicious Chocolate Cake Mix Recipe
Even YOU Can Make!
You have to balance the information YouTube needs to index your video with a human element that compels clicks. It can be difficult and it takes practice. But this practice will make a dramatic impact on your ability to get clicks as well as rank in search and it can not be overstressed.
Descriptions


The next most important aspect of metadata is your videos description. It is also weighted; the first 200 characters of the description are more valuable than anything after so you want to include your best keyword phrases here. After a paragraph or two describing your video with your keyword phrases carefully crafted into the mix you should utilize the rest of your description for a variety of things that can benefit your discovery, your views and your wallet.
After the initial description paragraph you should include any pertinent links that are most important to you. Websites, affiliate links, links to other playlists and videos and a subscribe link are all recommended depending on what is most valuable to you. Anything that you use as a call to action in your video can be linked here; driving viewers to your description is your chance to drive them to the places that hold value for you off platform.
After these links include your video Chapters. Chapters give viewers the ability to jump to different section of your video… but more importantly each individual chapter is indexed on Google Search. So each chapter provides a new opportunity for your video to be discovered in Search. Pro-Tip; you want your viewers to watch as much of your video as possible so try to keep your chapter markers in the first 50%-60% of your video. You don't want to drive them to a chapter that encompasses only that last 30 seconds of your video as there will be no video left to watch.
Contact information, disclaimers, credits and all the stuff that needs to be included but which isn't pertinent to your average viewer should go after this.
Include your hashtags last. You can include up to 7 hashtags, the first three will be included at the end of your title.
Tags
These are the least important aspect of metadata. Note, they are not
valueless
. They simply are not as important as the title and description. Tags help YouTube to recognize the key topics that your video is about, but mainly for the purposes of misspellings and such. These days the real value in tags is that they allow the creator to see where they rank (if you are using a handy-dandy tool like TubeBuddy!). This gives you feedback into where you stand so you can make adjustments and improvements in your keyword research for future videos. YouTube doesn't hold you solely to the tags you enter; they are indexing your video based on viewer's watch habits. You can check this by going to your YouTube Studio Dashboard and seeing what the top search terms for your video are.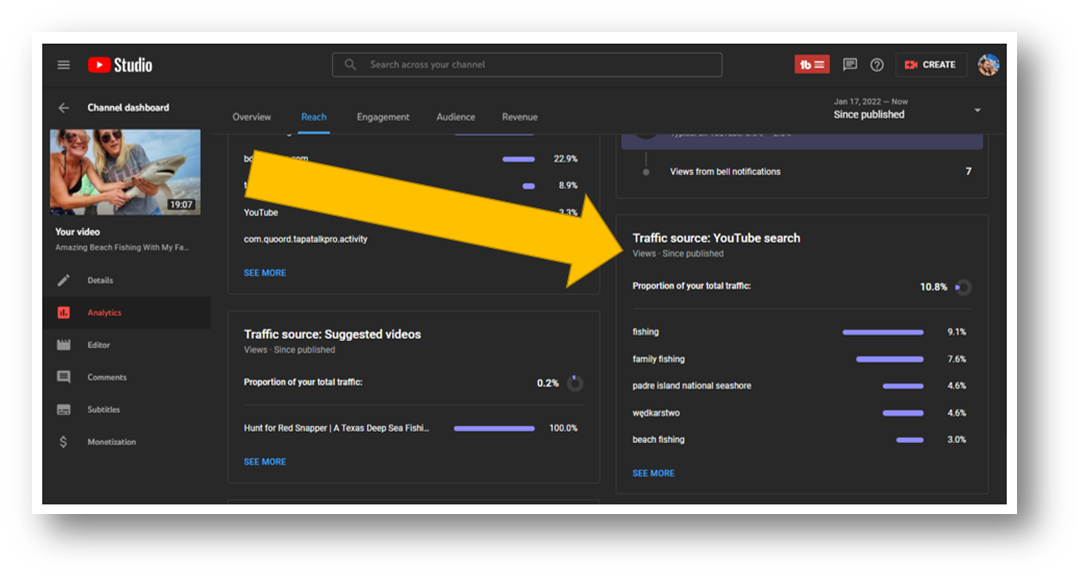 Captions


This is unconfirmed… but confirmed. YouTube has come out and said that they monitor what is being said in your video (most importantly the first 30 seconds) in order to measure its value to advertisers. But is that all they are monitoring? It stands to reason that since they are looking anyway, they are using Google Brain to astonishing lengths in your thumbnails and video content… so why would they
not
be listening to your video in order to determine its index placement? In addition to this YouTube is very likely listening not only to
what
is being said, but
how
it is said. We know that gunshots get flagged in videos as much as curse words do, and we know that YouTube caters videos to viewer based on their viewing habits. It is likely that YT has some metrics regarding the video
style
that viewers prefer, including how the audio is presented. Be mindful of this when you are targeting your audience; you may want to make music/volume considerations based on the audience you are looking to attract.
I can not speak to how YouTube does this or what they are looking at specifically, but we are provided the option of editing our captions. This is an important step in translating your videos as well, and something that more creators should spend time focusing on. Google often gets the things we say wrong, and it is not uncommon for Google to accidently put curse words into our captions. It is a good practice to review and edit your captions before you publish… and since you are there anyway you may as well translate your videos into different languages. If you are interesting in this I wrote an entire article on the this topic here:
https://community.tubebuddy.com/index.php?threads/46910/