Amazingly Decent and Not-At-All Terrible Fishing
Administrator
Moderator
TubeBuddy Staff
2,487
24
Subscriber Goal

250000
The Dunning-Kruger Effect is a representation of our competence and confidence in a subject, and it is highly applicable to everything that we do here on YouTube. It is important to understand that this is a natural occurrence and something that we all must deal with; if you understand why you are feeling despair for your channel it will help you push through.
It begins with that very first time you watched someone on YouTube and thought 'Oh man, I
want
to do this too!' You see only the positives; the limelight of being known for your art, the millions made by your favorite creators or the lifestyle it offers. You see someone filming a vlog with a phone and get immediate delusions of grandeur that you could also take your phone and make content that is going to pay the bills. This is known as the
Peak of Mount Stupid
and again, we all go through this. It is when you know only enough about something to be excited about it and you don't realize the work and sacrifice that it entails.
For YouTubers the next step is to start that channel. You start filming videos and posting to YouTube, you share them on social media and tell your friends... and absolutely nothing happens. No overnight fame, few views derived mostly from you, your family and friends watching (or not watching). You realize that you must accumulate an insane 4,000
hours
of watch time and 1,000 subscribers simply to qualify for monetization and on top of that when you do you are not going to be making much. It may take a year to get that first $100 check. Welcome my friends to the
Valley of Despair.
This is when the reality of your endeavor sets in. You don't know what to do and you get desperate... this is typically where people begin doing sub4sub and/or start looking for alternative routes like purchasing ads. Luckily the smart ones turn to a far better route; they learn that they need to improve what they do. They begin researching how to be successful on YouTube and they end up in the hands of someone like Nick Nimmin, Daniel Batal or Roberto Blake (and dare I say it TubeBuddy as well!). They persevere. They keep hammering through that first 100 videos. They study and improve their thumbnails. Through the understanding of their analytics they begin to understand their audiences desires and make the necessary adjustments to their content which begins to improve their video performance. Over time they begin to have a much more broad understand of marketing, making content and how the platform serves viewers.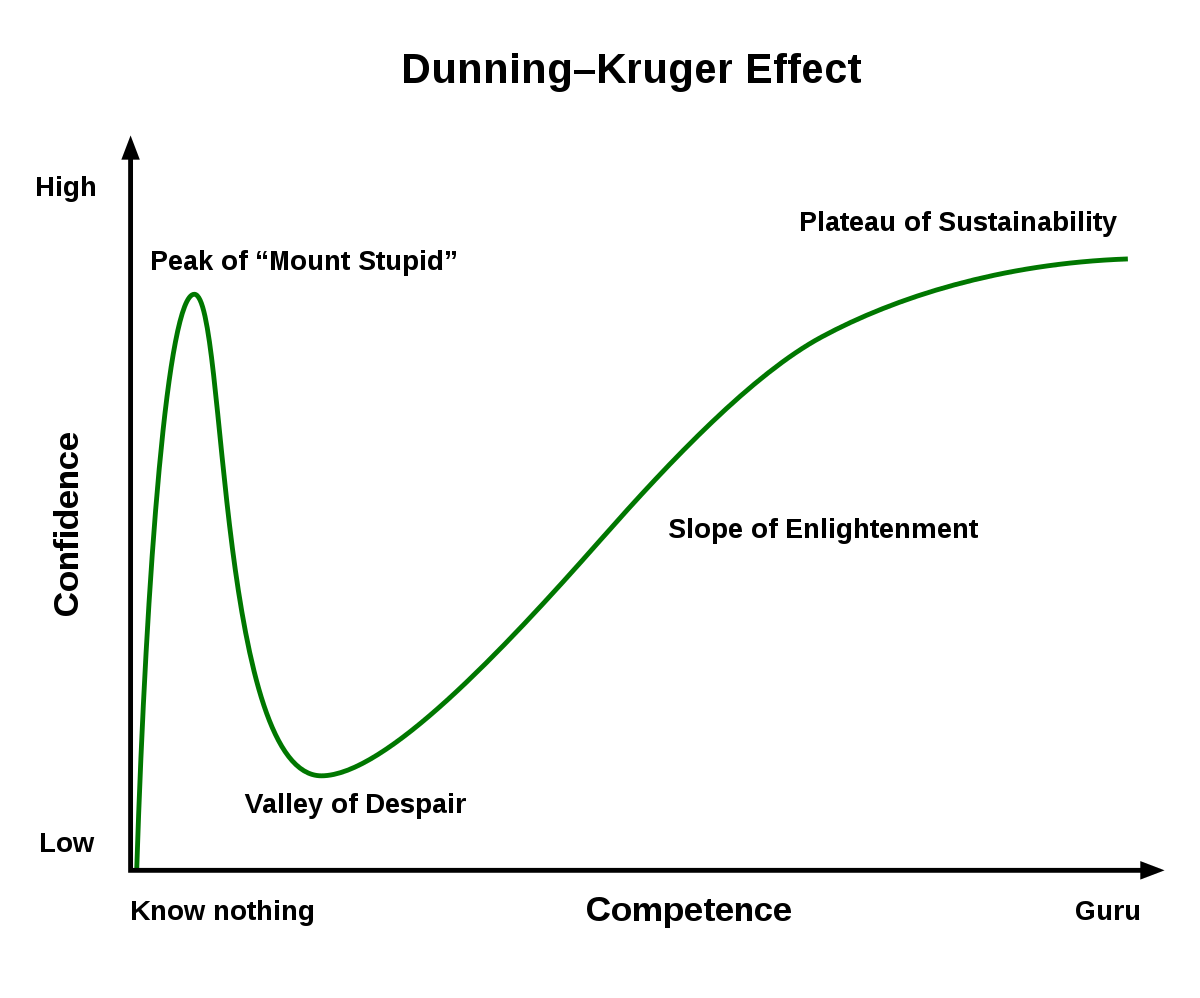 This is referred to as the
Slope of Enlightenment
. The more you know about a subject and the more competent you are the more your confidence will grow. As a beginner your competence was very low and this affected your confidence negatively but as an older, wiser creator you now understand what is happening with the algorithm, with your audience and viewers in general and you can apply the things you have learned to your content and see significant results. This transition from beginner to guru grows your confidence and over time it will grow to exceed the level you originally experienced at the peak of Mount Stupid.
YouTube is a grind. It's a marathon. We've all heard that said many times. It is important to understand what is going on with your own psyche. Know that we are all going through this, you are not alone and this experience is all part of the process. It will get better, but it will take time. It will take research and patience. And at the end of that tunnel is a robust bounty of knowledge that can lead you to the success you desire.