734
20
Subscriber Goal

1000
In the past few months Youtube has been making a lot of changes to the website adding new features and changing up the ToS to stay up to date with the latest trends. One of the most recent feature additions Youtube has made is the new video upload UI (see image below). To access it you need to go to Youtube Studio Beta and click the "upload video" icon at the top right corner. It's only on the Youtube Studio Beta since Youtube is slowly phasing out the Creator Studio Classic UI.
Unlike the current video upload UI which basically opens a new UI page where you can upload your video and then changes to another UI page where you set up the title, tags, thumbnail and more, the new UI opens within the Youtube Studio UI itself opening the new upload UI almost instantly and once you select the video you wanna upload it quickly switches to the video draft UI where you can edit the title, description and more.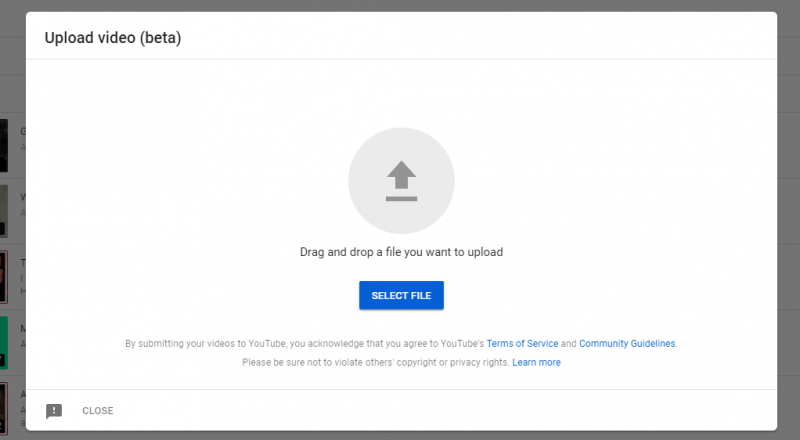 The new UI is designed to ensure the Basic Information tab for the video is filled in before moving on to the next tab which is labeled with numbers above the video preview. You can also select your video thumbnail on this screen.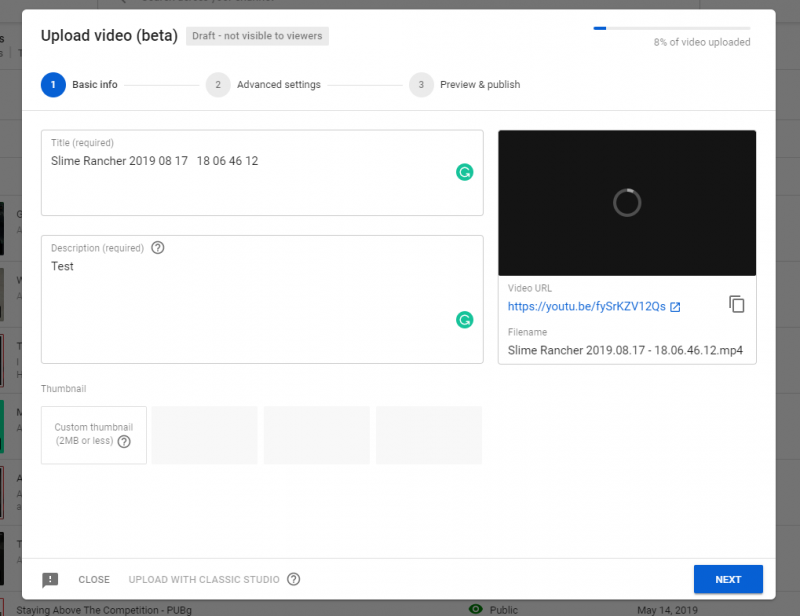 On Advanced Settings, you add tags and endscreens, adjust the video settings such as location and type of license and select a playlist if necessary.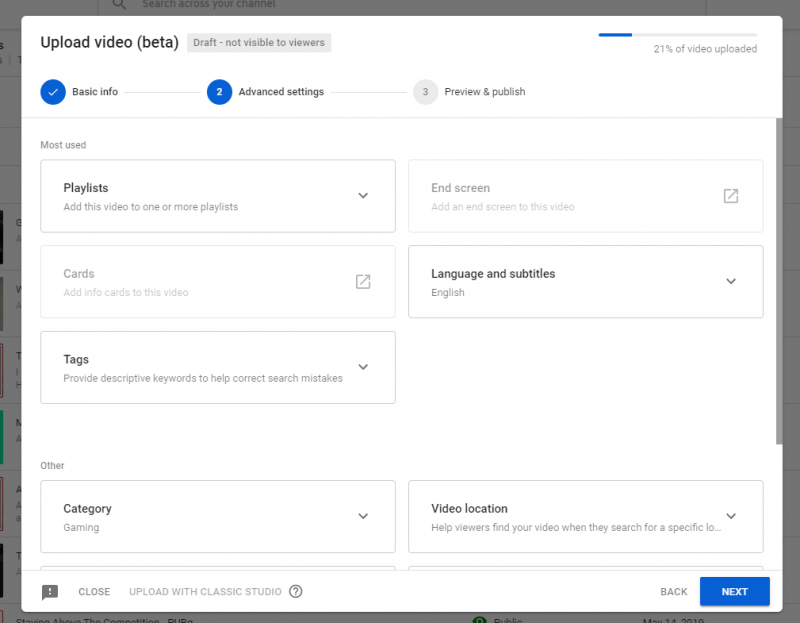 On the last tab, Preview and Publish where you set the video to public, private or unlisted before clicking the "Done" button to publish the video.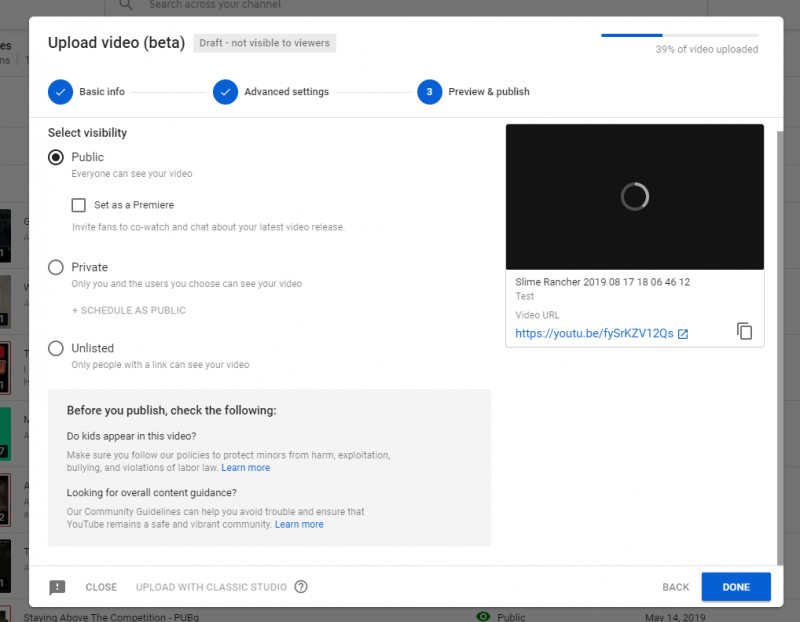 Bare in mind, this is a new feature that was just recently added to the Youtube Studio Beta and thus TubeBuddy is currently not set up to work with this new UI thus you won't see any TubeBuddy options or dropdown menus on these screens. At this time there is no word on when we will see TubeBuddy integration with the new video upload UI so please be patient. The new UI looks pretty cool and I am sure TubeBuddy Devs will make the TubeBuddy integration is just as amazing. TubeBuddy has a lot of new stuff coming soon, some of it was previewed at Vidcon 2019 so stay tuned for more news on TubeBuddy updates.
Like all changes, I am sure this new UI will not be well received by every Youtube Creator but let's face the facts. This is likely not the final product thus it may not look like this by the time it's out of Beta (which may be a long time). Youtube Studio Beta has been in beta for what seems like forever and has changed a lot since it first came out. Creator Studio Classic is slowly being phased out with Studio Beta becoming the default studio for your channel. That means the new video upload UI will likely see changes and revamps that will make it more modern and better and will eventually become the default upload UI so you may as well get used to it. I personally like the new UI but that's just my opinion.
So what do you think of the new UI? Leave your opinions below. You never know if Youtube Devs are watching and reading. Plus we here at TubeBuddy and the community are always eager to know what's on our member's minds and their opinions on Youtube's newest features and changes and TubeBuddy's newest features and changes as well.
Thanks for reading.